This auditory tableau delves into the convergence of non-musical and musical elements, spoken discourse, and cacophony within the vast expanse of the digital realm, crystallising these components into a dynamic radio performance.
The radio manifestation is rooted in an architectural composition for the auditory medium, utilising the digital sphere as both a fountain of sonic material and a playground for its digital manipulation. The composition's structure adopts an arch form, signifying the metamorphosis of human phonation into language, language evolving into speech, speech morphing into noise, and finally reverting back to the primordial human voice.
The arch form further underscores the stratification of variously composed musical pieces, harmoniously coalescing in an intricate overlay. This intricate layering provides an exploration into the interstitial spaces of sound, speech, noise, and music, creating a symphony of human expression within the digital soundscape.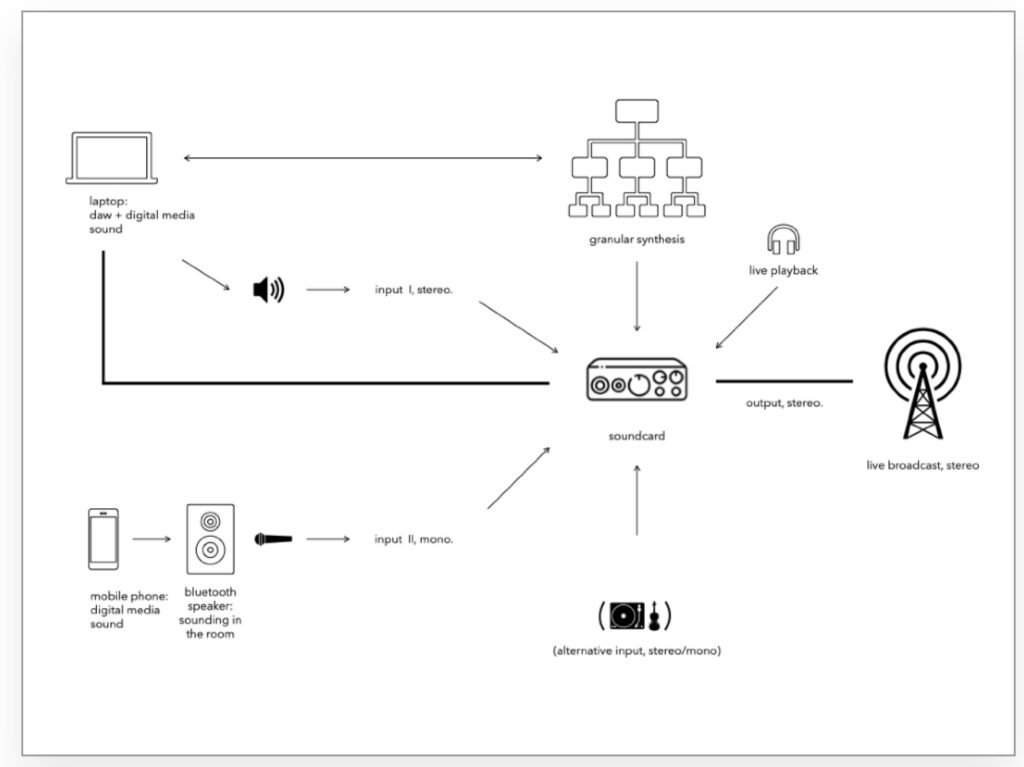 Media Copyright
title: Real Madrid Mucizesi, Elon Musk'a Rest, Megan Fox'a Kınama, Jesus zu Arsenal I Londra Merkez #36
release date: 28.04.2022
performer: Erman Yaşar, Onur Erdem, Ozan Can Sülüm
composer: Sokrates Dergi (name of the YouTube Chanel) media Source: YouTube
title: Voleybolda Altın Set, Kareem'in Sayı Rekoru, F1'deki Kısıtlamalar | MG x Sıkça Sorulan Sorular #27
release date: 16.04.2022
performer: Caner Eler, Armağan Ükünç
composer: Sokrates Dergi (name of the YouTube Chanel) media Source: YouTube
title: Cage: Sonatas and Interludes for Prepared Piano: Sonata No. 5 release date: 29.03.2001
performer: Boris Berman
composer: John Cage
media Source: YouTube
title: John Cage – Sonata XIII release date: unknown performer: unknown composer: John Cage media source: YouTube
title: Iannis Xenakis – Tetora (w/ score) (for string quartet) (1990) release date: 1990
performer: Arditti Quartet
composer: Iannis Xenakis
media source: YouTube
title: Watch Sky News Live
release date: live broadcast / 16:00-17:00 / 22.06.2022 performer: An Anchorman
media source: YouTube
title: ABC News Live
release date: live broadcast / 16:00-17:00 / 22.06.2022 performer: An Anchorman
media source: YouTube
title: Genuine Language Position
release date: 2019
performer & composer: Tolga Tüzün & Özgür Yılmaz
title: String Quartet No. 3
recorded on/in: 25.05.2017, Istanbul. performer: Dela Quartet
composer: Özgür Yılmaz
media source: audio file played back on iTunes
title: noisserpmoc
recorded on/in: 15.03.2016, Istanbul. performer: Dre/e Ensemble
composer: Özgür Yılmaz
media source: audio file played back on iTunes
title: An-Kayıp
release date: 2017
performer: Dela Quartet
composer: Gökalp Kanatsız, Özgür Yılmaz media source: Spotify
content & digital media source
title: Salzburgerfestspiele 2020, Wiener Philharmoniker, Andris Nelsons release date: 2021
performer: Wiener Philarmoniker
conductor: Andris Nelsons
media source: arte.tv
title: Trump slams Biden's response to Ukraine and Russia during South Carolina rally release date: 2022
performer & composer: an anchorwoman & Donald Trump
media source: YouTube
title: Best TikTok Mashup 🎧 June 2022 Philippines 🇵🇭 ( DANCE CREAZE ) 🤩 release date: June, 2022
performer: browser
composer: tik-tok composers/dj's
media Source: YouTube
title: Learn English via Conversation with Barack Obama, Bill Gates and Melinda Gates – English Subtitles
release date: 31.01.2018
performer: browser
media source: YouTube
title:ENGLISH SPEECH | THE ROCK: Be Yourself (English Subtitles) release date: 20.06.2022
performer: Oprah & Dwaine Johnson (Hercules)
media source: YouTube
title: DW – Deutsche Welle Live TV (Deutsch)
release date: live broadcast / 16:00-17:00 / 22.06.2022 performer: An Anchorman
media source: YouTube
title: Nitish Kumar – BJP Tensions Live Updates: Bihar Political Crisis | Nitish Kumar | NDA Alliance | JDU
release date: live broadcast / 16:00-17:00 / 22.06.2022
media source: YouTube
title: Best of Mercuri 88 TikTok Compilation | Funny Manuel Mercuri Tik Toks 2021 release date: 15.10.2021
performer & composer: Mercuri & TikHQ
media source: YouTube